During this period I began working part time at the local TV station, TV-25 in Denton. My job was to run commercials during the 5 o'clock newscast, and then run the programs in the evening.

In June 1982, I graduated from NTSU with a BA in Communications (although I had twice as many hours in music.) This rather blurry photo of me, Ken and Mike was taken at Jim & Cindy Hill's wedding around that time.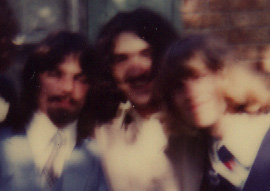 Bruce, Mike and Ken
Jun 1982
My instruments were gone. I was just working part time after spending 4 years as a poor student. Needless to say, there was a period of rebuilding. After graduating, I moved into an apartment in town. Apartment life wasn't very conducive to making music. But I did what I could with what I had.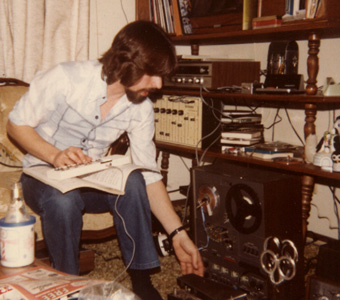 Recording on what was available
Jan 1983
Here I am using one of those tiny Casio keyboards with a built in sequencer. I'm recording it onto a quarter inch 4 track that I borrowed from Mike Musal. Note the home made mixer in the background. I made that from WOOD. I bought the parts at an electronics store and built a passive six channel mixer just to have something to use. This was not a particularly productive period.